How to Clean Your Pet's Ears
Ear Cleaning Resources for Your Clients
Regular ear care can be intimidating for your clients. Some feel that this experience is traumatic to their pets and threatens to ruin their human-animal bond – but it doesn't have to be this way.
This ear cleaning technique is gentle, less messy and easy to perform. The two videos and infographics below demonstrate how to perform this technique. Share the video link or download the infographics to share with your clients via email or on your own website and social media pages.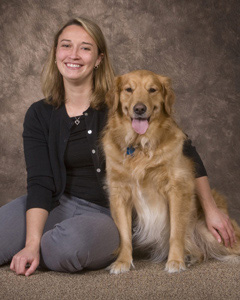 About Alison Diesel, DVM, DACVD:
Dr. Alison Diesel is a Clinical Associate Professor in Dermatology in the Department of Small Animal Clinical Sciences at Texas A&M University. She graduated from Kansas State University College of Veterinary Medicine in 2005. Following veterinary school, Dr. Diesel completed a rotating internship in small animal medicine and surgery at the Veterinary Referral and Emergency Center in Norwalk, Connecticut in 2006. She worked as an emergency clinician for one year prior to beginning a three-year residency in dermatology at the University of Wisconsin-Madison School of Veterinary Medicine. She completed her residency and successfully passed the American College of Veterinary Dermatology (ACVD) Certifying Examination in the summer of 2010. She is a Diplomate of the ACVD (board-certified in veterinary dermatology). She joined the faculty in the fall of 2010 to continue to expand the growing dermatology service and to help guide veterinary students in the management of skin disease in companion animals. Dr. Diesel has spoken at several continuing education seminars, has written several journal articles and book chapters, and continues to pursue research in various aspects of veterinary dermatology. She enjoys spending time with her own animals (two cats and three dogs, one of each who is allergic!), running, triathlons, reading, and cooking.
How To Clean Your Pet's Ears